Pastoral Internship
---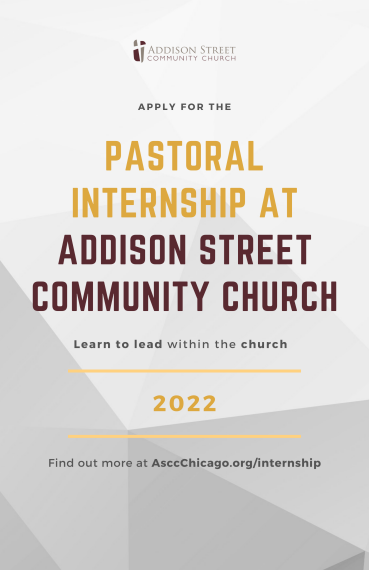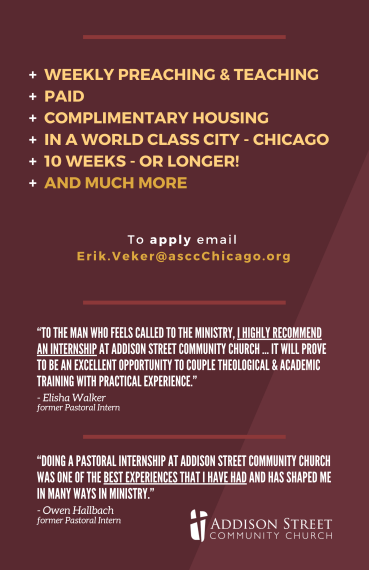 What is it?
Addison Street Community Church is an urban non-denominational gospel-centered church in Roscoe Village, a neighborhood on Chicago's north side. We are a growing congregation in the process of revitalization. Our desire is to make Jesus famous in our neighborhood while making disciples and training leaders for healthy & fruitful ministry.
One way that we do that is through our pastoral internship program. The internship program at Addison Street Community Church is designed to be mutually beneficial, both for the intern and the church. Our internship flows out of our core values: We are a community of believers proclaiming the Gospel through worship, discipleship, and service.
This will involve both tangible and intangible work. Our purpose is to serve you by:
Helping to identify, confirm and sharpen your gifts and talents for pastoral ministry
Deepening your understanding of the gospel

through word ministry, fellowship, and applied study of the church

Developing your written and verbal communication skills.

All interns will commit to a period of 10 weeks

, and

compensation will be awarded on a case-by-case basis.


What will it look like?

Here is a snapshot into the life of a pastoral intern at Addison Street Community Church:
Regular Preaching & Teaching Opportunities – The intern will teach at least once per week, ranging from 5-minute talks to 30-minute sermons preached and taught in various contexts. Some will be in a preaching lab, others will be among the church. He will exhibit excellence in research & study, clarity & creativity in communication, and personal growth in feeding the church God's truth.


Reading– Timeless and profitable reading has been identified and curated to benefit the intern both during the internship and long after his time at Addison Street Community Church. The intern will interact with these materials regularly with the leadership staff.


Mentoring– The Chicago church community has a wide variety of churches, parachurch ministries, and leaders. We will schedule time to expose you to experienced ministry practitioners

to build a network and learn

from various leaders.


Resumé Review– Each participant will benefit from a ministry resumé review and revision, helping communicate your ministerial experience and skills for future employment.


Leadership Development Sessions– The intern will engage in multiple leadership development sessions to cultivate and train different pastoral skills, which include but are not limited to preaching, the public reading of Scripture, Biblical counseling, and leading Sunday services.


Weekly Service Reviews & Previews – With the regular church gathering taking place every Sunday, the intern will garner highly useful skills in evaluating past services and planning future ones.


Journaling – To see personal growth and areas for further progress, the intern will be asked to periodically reflect on his experience at Addison Street Community Church by journaling, electronically or on paper.


Projects & School Requirements– Based on availability, gifting, and personality, the intern will be given projects, which will consequently be reviewed by the leadership staff. These projects may be adjusted to complement school internship requirements.


Midterm and Exit Interview– Each participant will be given a midterm and exit interview designed to evaluate and guide participants for further work in ministry. Participants will be asked to craft a 300-500-word essay assessing the positive and negative aspects of the internship before their final interview.


Sign the Fellowship Covenant of our church– Effective through the duration of the internship.
We would love to have you apply for this position. But spots are limited, so please contact us soon if you're interested at

testimonials
"The summer of 2020 was a tumultuous and stressful time—the perfect season to experience the realities of pastoral ministry. The interns at ASCC were introduced to missionaries and local pastors, read and discussed many good books, and taught how to plan a Lord's Day gathering. More than that, however, we were blessed to witness the "devotion to prayer and to the ministry of the Word" (Acts. 6:4), modeled by Will. This is the greatest blessing of the internship, invaluable for any man who desires to pastor. And don't worry! the members of ASCC have had many interns over the years, and are patient with any mistakes that may (and will) happen.
To the man who feels called to the ministry, I highly recommend an internship at Addison Street Community Church; approach with a humble heart, and it will prove to be an excellent opportunity to couple theological & academic training with practical experience."
- Elisha Walker
former ASCC Pastoral Intern

"Doing a pastoral internship at ASCC was one of the best experiences that I have had and has shaped me in many ways in ministry. The leadership has a heart for young, aspiring ministers of the gospel and it shows. This internship was a sort of "Practical Ecclesiology 101". I got to see the life of the church from the inside and I was even allowed to contribute, share, and participate in that life. This internship helped me to flesh out a lot of things that had merely been ideas in my head before. I got to see what my theological convictions could look like in practice and ultimately learned to serve the church with the knowledge and love that the Lord has given me. Furthermore, the leadership team exposed me to their connections and helped me to begin building a network as I prepare for potential future ministry."
- Owen Hallbach
former ASCC Pastoral Intern

"Pastoral ministry is a very special path one follows in his walk with the Lord. As with every path, it has a beginning: an entrance door through which you come in and see what's waiting for you. For me, the internship at Addison Street Community Church was this door, and it allowed me to use my gifts and talents in a unique way. Right after graduating from seminary, this was the perfect experience for me.
It was not only a highly practical adventure but also a deeply theoretical one in the best sense of the word. We learned through the many engaging resources we considered together, the discussions, as well as the workshops that take place during the internship. More importantly, the time at Addison Street Community Church gave me a deeper sense of holiness, godliness, and a need for a prayerful life. If you are looking for an intensive and personal opportunity, then this internship is for you."
- Warton Hertz de Oliveira
former ASCC Pastoral Intern