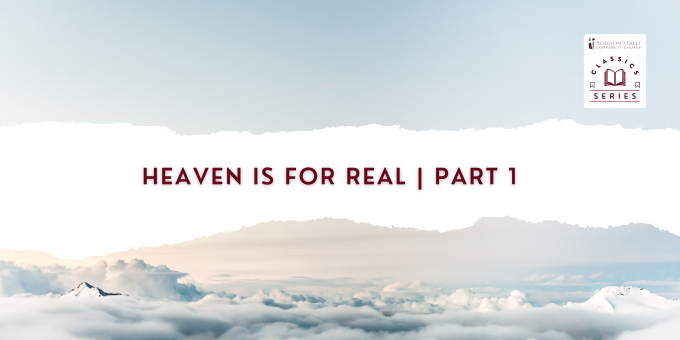 [3.5 MIN READ]
The following blog is the newest installment in our Classics Series, where we revisit posts from days gone by. This blog was originally posted in April of 2014.
---
What is the discerning Christian to think about all the books and movies recounting the near-death or after-death experiences of sincere people? Is heaven about our fanciful dreams about a few of our favorite things? Or, is it about something—or Someone—greater?
This is Part One of an ongoing series.
This week, Hollywood is releasing a movie called Heaven Is For Real based on a book by the same name. I read the book a couple of months ago and will not likely see it. Too many Three Stooges re-runs to watch.
There's no shortage of books and documentaries about near-death or after-death experiences (NDE/ADE). They come from non-Christians and Christians alike. The Apostle Paul in 2 Corinthians 12 left us wondering about a man he "knew" who had one of these experiences. Paul's account is cryptic, but the point was not to glory in the details of his experience.
Most world religions have some kind of teaching on the afterlife. Some pagans and atheists hold to annihilationism (once you're dead, that's it; no more!). Many religious people either have an intense fascination with the afterlife or prefer ignorance. Some often lose hope trying to reconcile both a place of eternal paradise and perdition. They're good with one but not equally so with the other. Let's face it: we are so wrapped up in our lives now that thoughts of the afterlife become less frequent. We live as "functional annihilationists"; as if there is no eternity. This is especially true of teens all the way to those in the middle of their career years.
What are we to think about the experiences of others? More importantly, how are we to think about heaven? I'd like to dedicate a series of articles considering heaven and hell.
Let me start by saying: God has revealed much in his Word about the afterlife, but he has not told us everything.
Deuteronomy 29:29 states, "The secret things belong to the LORD our God, but the things that are revealed belong to us and to our children forever, that we may do all the words of this law."
The point is that we are supposed to act upon what God has said. In other words, don't try to pry God's brain open for the stuff he hasn't said.
Think about it: Is heaven about me, my relief, my home in the sky, my meeting up with all my friends, my family, my pets, or my guardian angel? Or, is it about Someone else?