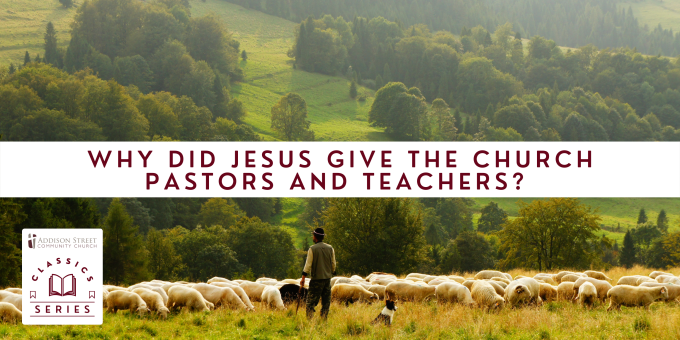 [2 MIN READ]
The following blog is the newest installment in our Classics Series, where we revisit posts from days gone by. This blog was originally posted in August of 2013.
---
Addison Street Community Church has had a lot of new things happening lately with the installation of a new pastor, the beginning of a pastoral internship, and the hosting of a summer Bible teacher. Sometimes it's good to step back and ask, "Why are we doing what we are doing?" So in this reflection, I want to ask, "Why does Jesus Christ give the church pastors and teachers?"
It may be surprising to hear that Jesus gives the church pastors and teachers, but that's what Paul tells us in Ephesians: "So Christ himself gave the apostles, the prophets, the evangelists, the pastors [shepherds] and teachers" (4:11). Paul tells us that Jesus Christ has given all these different kinds of leaders to the church, including pastors and teachers, and He has done it for two reasons:
First, He has given them "to equip His people for works of service" (4:12a). When the Gospel is preached from the pulpit, and the Word of God is taught in the classroom, it gives Christians the tools they need to serve one another. Second, Jesus Christ gives pastors and teachers "so that the body of Christ may be built up" (4:12b). Thus, the goal of our preaching, teaching, and serving one another should be the strengthening, the "bodybuilding" of the church. In next week's reflection on Ephesians 4:13–15, we will see the ultimate goal of this strengthening.