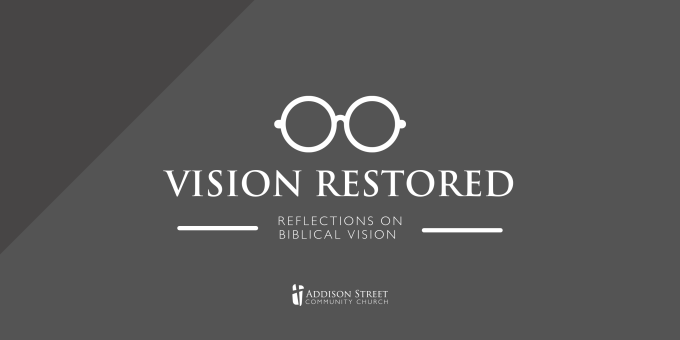 an eye exam
When was the last time you went to the eye doctor and had your eyesight checked out? Had your sight improved or declined? I always find it a bit discouraging going to the eye doctor because I've always had really poor eyesight. I have significant astigmatism in my right eye, which made me need glasses from as early an age as I can recall. So, though it's customary to regularly get your eyes checked by a doctor, I always dreaded it. My sight never seemed to improve. That's the way it is for a lot of people. Eyesight is hard to improve without taking drastic steps like Lasik surgery. The law of atrophy seems pretty consistent across the board with eyesight.
But there's another question that's worth asking. When's the last time you had the eyes of your heart checked out? When's the last time you took inventory of what the eyes of your heart are looking at? Paul, the apostle, opens a letter to the Christians in the city of Ephesus by saying that he prays for them without ceasing, "that the God of our Lord Jesus Christ, the Father of glory, may give you the Spirit of wisdom and of revelation in the knowledge of him, having the eyes of your hearts enlightened, that you may know what is the hope to which he has called you, what are the riches of his glorious inheritance in the saints…" (Ephesians 1.16-18, ESV). He seems to grasp something that I think many of us miss in the average pace of our lives. He gets that there's another set of eyes, the eyes of our heart, that need enlightening. They need to be checked up on, at least as frequently as our physical eyes—if not more regularly.
Here, he prays for the eyes of their hearts to be opened. Opened to what? To the glorious visions that he then describes with lofty, beautiful imagery. First, that they would see the hope to which God has called them. Second that they would see the texture of this hope, the texture of the riches of God's glorious inheritance for his people, the saints. Third, that they would see the immeasurable greatness of his power toward them—those who believe in the Lord Jesus Christ. He wants them to see that this is the same power that raised Christ from the dead and raised him to his current seat at the right hand of God the Father (vv19-20). Fourth, he wants them to see the reality of Christ's present rule and reign as he sits there at the Father's right hand. Their eyes need to be opened to see that Christ is ruling right now in this age, and he will rule in the age to come (v21). Fifth, he wants the eyes of their hearts to see that Christ is the head of his church, his body, the fullness of him who fills all in all (v22). Don't miss the special nature of these realties that he wants them to see. These are sights that the physical eyes can't see.
And Paul prays all this for them without ceasing. In other words, he seems to be under the impression that this is of utmost importance. This is one of the things he comes back to over and over and over again—that the eyes of their heart would see something beautiful. For Paul, he ultimately wants them to see reality. If the eyes of their heart are not opened, then it would imply that they can't see the world in its actual state, and therefore they can't hope for these glorious experiences.
You have to wonder, at this stage, were their eyes even slightly opened to see these photos of spiritual reality? Is there any sense that what he's describing here was something that they could say, "I may not fully know what you're describing, but I at least know it in part. I know it experientially."?
It's clear that there's a type of vision that needs to be addressed with the same proactive care that we give our physical eyes. It's the vision of the heart. This is the vision that is perceived by the eyes of our hearts. So, have you recently had an eye exam for the eyes of your heart? Have you addressed the issues clouding the vision that God wants you to have about him and his world? This is the essence of what I want to address. We very likely need a spiritual eye exam far more than a physical eye exam in our present circumstances. So, are you ready for the exam?
Vision Defined
The blind and deaf activist, Helen Keller, was once asked by a reporter if she thought there was anything worse than being born blind, to which she quickly replied, "To have sight and no vision." She saw something that most people miss. Your physical eyes could work perfectly fine and yet be missing out on the fundamental dynamics of the world that are only seen with true vision, with the eyes that aren't just in our heads.
There are two types of vision—physical vision and spiritual vision. Physical vision is what it sounds like. It's the ability to see physical material. It's the ability to see all that is tactile. These are the elementary tools we use to read the world through that which reflects physical light. This physical sight is ours from God by nature of creation.
The second type of vision is spiritual vision. Spiritual vision is the ability to see the world as it really is and the world as it will be. Spiritual vision is seen with our physical vision, but it also takes in data beyond the physical dimension. Spiritual vision, when working correctly, includes the unseen. Seeing God and his work in the world is a product of spiritual vision. We all want to see precisely in the present, and being able to know what God is going to do in the future is a luxury, but vision is also needed to see and understand how God has worked in the past. Spiritual vision, therefore, is even more critical than physical vision. If you have no spiritual vision, then you're more blind than someone who doesn't have any physical vision. Don't we all agree that there's more to life than that which meets the eye?
For the remainder of this article, I will be using the word 'sight' to refer to physical sight and 'vision' to describe that ability that we're seeking to acquire and sharpen—the sight that is enabled through the eyes of our heart. And what we'll see is that we need our vision restored.
I define vision as the calibration of the heart, mind, and body to the future of God that changes who we are and what we're becoming. Vision is goal-oriented in that it has the future of God's reality in view that doesn't yet exist in its fullness. Vision is both attainable and challenging. It's achievable because of its basis in the word of God, and yet it's also challenging because it proceeds from the mind of the all-wise God. It will be accomplished by the mission and means that God has given to see his certain future established.
So, vision answers the questions, "where are we going? What does the future look like? How do we attain that future?" But if God is spirit and therefore unseen with our sight, and if vision isn't given indiscriminately to all people, then how do we attain this vision?
Prerequisites to vision
Vision does not exist apart from God, and God does not grant it without faith. Faith is how we fundamentally relate to God. So the first prerequisite to vision is faith. Faith then opens our eyes to see God and his work in history. Faith opens the eyes of our hearts to see the world as it has been, as it is, and as it will be. Therefore, faith allows us to see into the future. But this future that we can see into is entirely constrained by the word of God and what he has declared the future to be. The effects and end goal of clear vision is effective work for God's kingdom.
So to put it plainly, faith opens our vision. Vision opens our eyes to see the world as it really is. Seeing the world as it really is opens us to work effectively for God and the kingdom he establishes.
Effective work means focusing on the right initiatives, not the tangential distractions. Effective work means we're enjoyably doing the right, sustainable things. Effective work means that we're confident that we're not wasting our time and resources on something that has no lasting value. Effective work means it's worth it. Clear vision leads to effective work for God's kingdom.
Perhaps even while reading this, something's registering in your mind. Perhaps you don't feel like you're effective in the things God has called you. Maybe you don't have a sense of joy in the life that God has given you to steward. Perhaps there's a vacillation that you're battling with and a lack of confidence and certainty that what you're dedicating your life to has lasting value.
These are initial indicators that you need a clearer vision of God's future. With clear vision, we can walk forward confidently. At the end of the day, it's prophetic vision. Prophetic vision in this context isn't a freshly minted revelation. It's not as if God is revealing something new to us. It's prophetic in the sense of telling us what tomorrow is going to look like. Anytime a preacher gets up and says, "believe in the Lord Jesus and you will be saved," he is casting prophetic vision. Do this, and then this other thing will happen. The future is spelled out very simply for the listener. And that's prophetic vision in its purest form. It's a telling forth of what will happen given the rock-solid confidence we have in God's word. And God never lies.
If we have prophetic vision, almost everything else clears up. If not, we're in darkness. The proverb has shown itself reliable in the past and continues to today: "Where there is no prophetic vision the people cast off restraint, but blessed is he who keeps the law" (Proverbs 29.18). No prophetic vision, no self-control. No prophetic vision, no restraint on what we do or don't do. No prophetic vision and no keeping of the great law of God to love him and love our neighbor. But with prophetic vision, we can retrain ourselves to the good, beautiful, pure, and true. With prophetic vision, we're able to keep our hearts and minds on the law of God, his rules for life in his kingdom. Prophetic vision stimulates obedience to God, and there's no joy in participating in the blessing of God's future without obedience to his word.
The vision of God
We need to keep in plain view that God's vision is reality. For God, the future is as sure as the past. God is not constrained by time the way we are. This is one of the incredible comforts of his providence—that there's not one person, there's not a single minute, there's not a single event that is outside his purview. There never has been, and there never will be.
So when we talk about vision, we're talking about something certain because it's rooted in God's plan. But tragically, it's something that we've lost. Scripture tells the story that we once had vision, but now it's been corrupted. We need our vision restored. We once could see, but now we're blind.
In the beginning, there was no dichotomy between sight and vision. They worked perfectly in tandem. God created our parents, Adam and Eve, with true vision and true sight. They were calibrated. They walked with God and knew him. They had his word and mission—to work the land and keep it. They were to have dominion over it and rule over it the way that God intended them to. The vision of their future was the reality of their experience: life under the kind smile of God Almighty. Their vision was their day-to-day experience. And thus, they had true, unhindered vision.
But the dichotomy that now exists between our sight and vision was brought upon when vision was attacked. In the garden of Eden, the serpent painted a deceitful picture. It wasn't real. He put a seed of doubt in Eve's mind and made her doubt if her reality was actually the blessed future that it could be. He paints a picture of a false future and tells her to eat from the one tree that God told her not to eat from. And then, when she no longer believes that God's future is best, but the serpent's lie is, her vision is corrupted. She then looks with her sight, and her vision sees that the tree is suitable for food and that it was a delight to the eyes, and that the tree was desirable to make one wise, and she takes the fruit and eats some, and gives some to her husband, and he eats some too.
Then something shocking happens. We have reason to believe that her vision had been corrupted even as she looks at the tree and doubts God's good intentions. But as soon as they eat, both of their eyes are opened, and they know that they are naked, and they make a covering for their nakedness. As soon as they sin against God, their vision and sight are utterly corrupted. The beautiful standard in God's world has suddenly become a source of shame. That which once brought them joy is now a cause for hiding. Vision has officially been corrupted. Darkness has entered into their world that was once filled with the perfection of light. Vision is corrupted and must now be restored. And the Bible can now essentially be read through this framework. The framework is the question: How does our vision get restored?
And it doesn't take long after this initial corruption to see how the dichotomy of vision and sight wreak absolute havoc in the world. When our sight is divorced from our vision, we don't do the things that stimulate righteousness, peace, and joy in God. We see a world corrupted by evil, and therefore one that casts off restraint. So deception rules the day. Lies govern the night. Anger abounds. Sin streams forth like a rushing flood.
And not too long after that initial corruption in Adam and Eve, we see the destructive effects of a lack of vision. Isaac, one of the great patriarchs of the Bible, desires to do what all fathers are supposed to do—to bless his firstborn son before he departs in death. Esau is his firstborn son, so he thinks he should give him the blessing. But Jacob, his younger brother, has always wanted the blessing, so he takes advantage of his father's corrupted sight. He has a corrupt vision of his future, so he takes advantage of corrupted sight. Isaac's eyes "were dim" (Genesis 27.1), meaning he could barely see. And while Esau is out in the field working, Jacob puts hairy skins on his arms to feel like his hairy brother Esau. He then goes into his father's room to deceive him into giving him the blessing. Since Jacob feels and smells like his brother Esau, Isaac, though initially skeptical of the situation, finally bestows his blessing on this, his younger son. You have a perfectly refined recipe for further corruption when you mix Jacob's dimmed sight with his obscured vision.
Vision needs to be restored to Jacob. Vision needs to be repaired to all who share Jacob's DNA. This is one of countless examples of the effects of vision that's been corrupted. The Old Testament is story after story of people rebelling against the vision of God. The grace of God in all of it, no matter how dark, is that he even uses the corruption of deception to accomplish his ultimate vision. That particular providence doesn't give license to deception, lies, and a desire to establish a future vision of darkness. Still, it does show the overpowering grace and power of God to accomplish his vision through even the most jacked up of circumstances.
The Old Testament narrative continues to develop, at times getting so dark that you can barely see any light at all. But the prophetic vision is not easily exterminated, for it is tied inextricably to Almighty God. Once again—true vision is God's reality.
And so God begins to send prophets, his servants. They are mouthpieces for God that call people to faith and repentance in God. They begin to paint an even clearer picture of God's future, and subsequently, the future of God's people. The prophetic vision comes, and it's glorious. No matter how dark it gets, they show a future of light. They offer a future of restoration. There's a day coming when vision will be restored so that we will once again be able to walk with God and our neighbor in peace. The vision is something significant. It's not just a reversal of the corruption of sight and vision in the garden of Eden, but redemption and accomplishment of the task and mission that they were originally charged with. To work the land and keep it, to bring God's vision to its fulfillment.
And then the most dynamic vision restoration movement begins, seemingly out of nowhere. This one man shows up on the scene named Jesus, and his name means that Yahweh saves. So even his name begins to cast a vision of a future that he begins to accomplish in his life and ministry. Jesus restores sight to the physically blind, and in his teaching, begins to describe in considerable detail what God's future entails. And at the center of that future is his very presence. But the questions continue to linger: "How will this come about? What great work will need to take place for peace with God and peace with our neighbor to become a reality?"
The life, ministry, death, and resurrection of Jesus Christ answer these questions. He accomplishes everything necessary to bring sinners, deceivers, liars back into a state where they can know God through faith. He accomplishes everything required for us to have a trustworthy account of the future. He brings clarity to the future that hadn't existed in the minds of humanity since the days of Adam and Eve in God's garden.
What we see is that our vision isn't restored by a great effort on our end but solely by the grace and merciful condescension of God in Christ. Christ restores our vision. Christ is the center of the story. And he goes so far as to give us an unveiling of how this corrupt world will be fully renewed. In the book of Revelation, Christ clarifies the eyes of the heart of John, the apostle. And he sees again. He sees the future. He doesn't just see a future to be hoped for, but a future so sure that it seems to be written in stone. The future is a beautiful new creation, where God's people have been beautified and sanctified. They have made themselves spotless and pure by the blood of Christ that was shed for them.
Further, the future he sees is where his vision and sight have been brought together again. And he writes, "I looked, and behold, a great multitude that no one could number, from every nation, from all tribes and peoples and languages, standing before the throne and before the Lamb, clothed in white robes, with palm branches in their hands, and crying out with a loud voice, 'Salvation belongs to our God who sits on the throne, and to the Lamb!' And all the angels were standing around the throne and around the elders and the four living creatures, and they fell on their faces before the throne and worshiped God, saying, 'Amen! Blessing and glory and wisdom and thanksgiving and honor and power and might be to our God forever and ever! Amen'" (Revelation 7:9–12).
Our future, because of Christ, is one of peace with God and peace with our neighbor. It's the happiest of all futures because the majestic and glorious one is receiving the majesty and glory from his people that he deserves. Things have been set right. Vision has been restored with no threat of deterioration and corruption. Do you see it?
The picture that develops in the book of Revelation is like the top row of letters when you're getting your eye exam done. The top row is just one letter, usually the letter' E,' very large, and it's crystal clear for almost everybody. The big stuff is clear. As you move down smaller and smaller to the letters toward the bottom, even the best of eyes have trouble seeing the distinctions in each letter. And so it is with the book of Revelation and with the vision of the future for God's people. The main things are plain and clear, like that 'E' at the top. The main things are the relatively plain things, even if you're sometimes confused at the nature of the apocalyptic vision. By contrast, the more minor, granular stuff about God's future isn't crystal clear. God hasn't given us everything we want to know about himself and his kingdom, but he's given us everything we need to know. And those top few rows are clear. Here are some of the top-level things we know about the vision of God (which he fully knows down to every microscopic detail).
First, God's glory is central. All things have always existed for the glory of God's name, so the vision of the future is where God gets all the glory.
Second, all things have been renewed, restored, and recreated. There's a new heaven and a new earth. The old has passed away, and the new has come. Therefore, there is much continuity with the beauty we see on our planet, and there is also much discontinuity with all the destruction and ugliness we see here.
Third, God's people live in perfect harmony with him, cognizant of how that harmony came—through the redemptive work of Christ Jesus.
Fourth, God's people, his bride, is made up of people from all nations, tribes, peoples, and languages.
Fifth, there are a lot of people in God's new creation. So many that they are described as "a great multitude that no one could number" (Revelation 7.9).
Sixth, joy and feasting are characteristic of the vision that is to come.
Seventh, this future is more certain than anything else in the world.
Do you see what I see? Do you see what John sees? Do you ultimately see what God doesn't just see but guarantees? This is vision fully and finally restored. And it owes all to the glorious one who accomplished the restoration of our vision, Christ Jesus.
Addison Street Community Church's small part in the vision of God
Is what has just been described practical for our life together as a community? Is this potentially so cosmic and large that it runs the risk of practical irrelevance? I don't think so. I believe when rightly understood, this glorious vision of the future enables us to rightly hear our marching orders for our life together as a church.
If this is the inevitable future of the world globally, then it's also the certain future for us locally. Roscoe Village and North Center are no exception to the vision painted by the Scriptures above. Roscoe Village and North Center and the people therein are no exception.
Therefore, the part we play in seeing this vision slowly but surely accomplished is a derivative of something that's both grander and guaranteed. We're a small piece in the puzzle. We're a fraction of a section on the tapestry of God's redemption that spans time and space. We're just a small part—but we're still a part!
So if the above is what the future holds for the world, then what's your vision for our neighborhood? Who's a part of this vision? For starters, let's look at the people that God already has in our mix—the current members and regular attenders of our church. Who do you see us becoming future? Augustine of Hippo is walking on the street one day, and he passes a woman he had known a long time prior. Before his conversion, Augustine was enslaved to sexual sin, and the woman he passed was a part of his sinful history. As he passes her, he doesn't speak to her or act as like recognizes her. So she calls him and gets no response. She tries it again, and he still doesn't respond. So grabbing his arm, she looks at him and says, "Augustine, it's me!" and he looked at her frankly and said, "I know, but it's not me."
This is a piercing depiction of the great work of conversion that God accomplishes in someone's life. God brings spiritually dead people to life through the gospel so that we can actually say that we are new in Christ. With Augustine, we too can look at memories of our old selves before our conversion and say, "I am no longer that person." But the effects of salvation make themselves manifest in our sanctification. Once we're saved, God begins to sanctify us more and more, day by day. And the ongoing effects of sanctification never end. Christ constantly and perpetually makes us new until he calls us home to himself through death or returns to the world in his second coming.
So, my question for the established community at our church is, do we see a day ahead of us when we are more fully sanctified? Do you know a day when this community has more fully matured in Christ? Is a day readily available in your mind of this community abounding in love for one another? Do you see more of Christ in us in the future and less of our old selves? Do you know a community renewed by the gracious gift of Christ? Is the picture of the future one of reconciliation with someone you've wronged? With someone who has wronged you? In short, do you see God's future trickling down and becoming our future?
But the vision of God's future isn't just us. That's definitely true on a global scale but divided down to the local scale as well. People in our neighborhood are part of God's community who have yet to hear and believe in the gospel. Do you see more conversions happening due to the preaching and evangelism that we're doing? Do you see people walking from their homes nearby to the church? Do you see a day when our church building is bursting at the seams with people because the gospel has been so clearly presented and believed upon by so many of our neighbors? Do you see the bittersweet goodbyes to someone who has left this community to help plant another gospel proclaiming church a few blocks away to reach even more of that neighborhood? Do you see our church neighborhood recognizing the beauty, majesty, and glory of the crucified and risen Lord Jesus?
In his ministry on earth, Jesus cautioned his disciples, saying, "Do you not say, 'There are yet four months, then comes the harvest'? Look, I tell you, lift up your eyes, and see that the fields are white for harvest" (John 4.35). Do the eyes of our hearts see a field of people around us white and therefore ready for harvest? God is gathering people. The only thing we need to consider is if we're assisting in seeing that true vision established or if we're working against it.
This is the caption under the future image for our neighborhood: more people coming to love Jesus. But how is that accomplished? Do they just happen to walk in and choose to sit down on our bus and go along with what we're doing? Is this vision just a nicer version of what already exists, but the only difference is that now we all say "God bless" to each other when we pass by in the street? No, it's something radically different. God's vision is also established by his mission and his means. And the means and mission of God are fundamentally different means that we might want to use to grow this thing. This vision will be established in our neighborhood if we do at least three things.
First, we need to believe. Vision, to restate its breeding grounds, is faith. No faith, no vision. So if you can't actually picture some of the things above described, there could be good reason to audit the quality and quantity of your faith. It's not easy to behold by faith given the resistance that the gospel is met with in every generation—and ours is no exception. Faith isn't a one-time deal. We need to constantly be growing in faith. Growing in the quantity and quality of our faith. That we believe God's word more quickly. That we believe his promises more fully. That we have worked out the implications of the gospel more thoroughly.
Second, we need to preach in faith. God is saving and sanctifying souls through the word of his power. Yes, the Sunday preaching is essential, but this is not the only thing I have in mind. Preaching the gospel is an all-of-life kind of endeavor. Preaching has a confrontational connotation, and part of that is true. But that leads people away from recognizing their need for preaching throughout their lives. We need preachers in the streets, preachers in our homes evangelizing our children, preachers in the workplace bringing the word to places yet unreached. We need preachers in friend groups reminding the collective why we exist and what our future is. We need preachers of the gospel in the church, reminding the leaders where we're going and what's ahead. We need preachers in marriages, reminding the pair why they exist as a unit. All of this must be underpinned altogether with faith. God uses these simple things we call words to bring about his vision.
Third, we need to pray in faith. All of this is borderline useless apart from calling on the name of the Lord with fervor. God is seeking those who seek him. Prayer is not a baptized version of your Christmas list that you throw out into the cosmos while closing your eyes. No, prayer is meeting with, delighting in, and many times wrestling with the Lord of the universe. We need prayer meetings in the quietness of our homes in solitude. We need prayer meetings at the dinner table, surrounded by family members and guests. We need prayer meetings in offices where two or three are gathered in Christ's name. We need prayer meetings at the church where we engage and collectively lift up one voice. We need prayer meetings every Sunday where, in unison, we cry out to the Lord in desperation for his grace. Once again, simple means, almost entirely consisting of words.
All three go together. Good preaching in various contexts cannot be done without faith and prayer. Prayer can't be truly effective and refined according to the word of God without preaching that comes to bear heavily on our thoughts and lives.
Do you see a day when you pray without ceasing? Do you see a day when you've developed a simple ability to proclaim the gospel? Do you see a day where men, women, and children are all able to spur each other on to the mission of God? This is work for the community, not just for a few.
God's vision is reality, and it should trickle down to the smallest unit of measurement. We've been focusing on the vision for this local manifestation of Christ's church at Addison Street Community Church. But the trickle-down effect is simple and helpful for planning your own personal steps for the year ahead. God's vision is the ultimate reality, and the global church's vision flows from his vision. The local church's vision is a fraction of its worldwide vision and flows from it. The family unit is an even smaller piece of the small piece we call the church, and the vision for the family flows from the vision for the local church. And finally, the individual develops the right vision as it flows from the calibrated vision of the family. When all of these visions are aligned, and in sync, the work of seeing God's kingdom come is greatly facilitated. There's less stumbling over each other since we're all walking in a single direction. There's the constant ability to look to the side and be encouraged by the other individuals' similar work. There's the great comfort and confidence that we receive knowing that down to the smallest unit, we are doing the one, timeless, tested, and true mission—seeing the vision of God established here on earth as it is in heaven.
Right vision leads to effective work for God's kingdom. Will you allow God to restore your sight? Do you see what God sees?