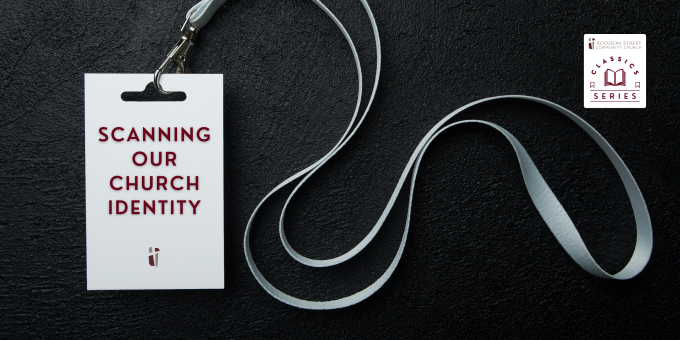 [3 MIN READ]
The following blog is the newest installment in our Classics Series, where we revisit posts from days gone by. This blog was originally posted in August of 2013.
---
It seems like you can hardly go anywhere these days without an ID. An ID is a governmental or organizational-issued credential bearing your likeness and some basic data about you (have you ever forgotten your ID card or lost it?). We also live in days where people experience "identity theft." It is a type of injustice that leaves victims stripped of security and financial resources. However, a more common problem for individuals, especially (but not limited to) those growing into adulthood, is "identity crisis." An identity crisis strikes at the heart of a person's being and purpose. Media has made spectacles of the rich and famous (think: Michael Jackson or Lindsey Lohan, for example). When you are described as: 'most yourself when someone else' or 'having no country,' then you might be having an identity crisis, to say the least.
Churches have an identity, too. All churches have been birthed, have certain trademarks, and should have a purpose. It is essential to know where we came from, who we are, what we believe, why we believe it, and where we are going. As a church, we are about to embark on two significant endeavors over the next 7 months that will help us avoid an identity crisis and, by God's grace, set us on a path towards a clearer church ID. The first is that next Sunday, I will begin an introductory series on the church. During those talks, I will try to answer these basic questions: 'What is a church?' à 'What powers the church?' à 'What's the church's mission?' This is a vital conversation at this juncture of our church's history. The second endeavor we are undertaking is a significant overhaul of the constitution of Addison Street Community Church. A task force designated by the advisory committee and myself has begun to pore over what we currently have and craft new language and organization. An amended constitution will be presented to you at membership meetings in late September and February. The team needs prayer, and we—Addison Street Community Church—all need prayer, wisdom, and unity. Having a clear identity, divine power, and a razor-sharp mission is crucial to the life of this church and, more importantly, for the glory of God.