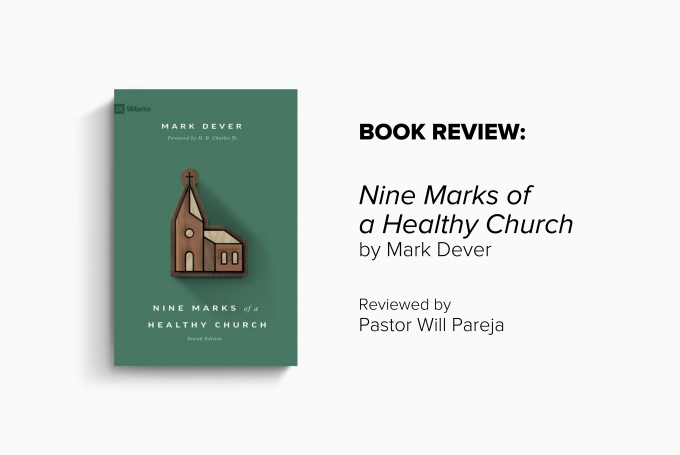 Nine Marks of a Healthy Church, by Mark Dever. Crossway.
If this could land on every pastor's reading list in America, I think the conclusion would be that this is a "retrieval" book. What I mean is that it's hardly innovative and more about recovering the "old paths." If the contents sound novel, it's because that's how far we wandered.
The foreword by Pastor H.B. Charles and all the prefaces of previous editions not only fascinate but tip the scales to this book's significance even more. By training, Dever is a historian. So, his introduction follows recent jeremiads of recent religious decline and helpfully traces historical proposals or formulations at defining the church and her "marks." But, his wisdom as a pastor-writer frames his book quite realistically: "...this book does not attempt to say everything that should be said about the church. To use theological language, it is not a full ecclesiology…. it is more a prescription than a course in general anatomy of the body of Christ" (31).
Though I think the chapters could be read selectively, the optimal benefit comes by reading it from the beginning and in order. For the sake of this review, each of the nine marks is listed with some brief commentary and quoting.
Expositional Preaching: "If you establish the priority of the Word, then you have in place the single most important aspect of the church's life, and growing health is virtually assured because God has decided to act by his Spirit through his Word" (44). "Expositional preaching is preaching that takes for the point of a sermon the point of a particular passage of Scripture" (45-46). "It is good to preach truth; it is even better to preach in such a way that people can see where they can get the truth" (58).


Gospel Doctrine: Dever layers the first mark by noting "truth about God and the gospel" as necessary to exposition (69). It doesn't take him long to show his hermeneutical cards by broaching biblical theology as necessary for gospel doctrine (71). Getting God right as the creating, holy, faithful, and loving Sovereign of history is vital for human response (72-87), and seeing Jesus Christ as the very "heart" of the Gospel (89) are all necessary to getting doctrine right.


Biblical Understanding of Conversion and Evangelism: Maybe they could be separate "marks," but they go hand-in-hand, and Dever brilliantly persuades. "Understanding these matters biblically will free us to tell all we can of the good news of Jesus Christ, as we seek to show people with our lives and persuade them with our words what it means to be changed by God" (95). The phrases "sincere commitment" and "a self-conscious decision" (100) were helpful to me in thinking about conversion.


Biblical Understanding of Church Membership: If there's anything 9Marks is known for, it's this mark. Mark and the others who've written for 9Marks over the years have hardly come up with anything new. I think they just discovered and blew the dust off on an implication of salvation. Dever's own articulation here is both fresh and refreshing.


Biblical Understanding of Church Discipline: This is just the other end of a tightrope. Dever masterfully presents the biblical evidence for church discipline with succinct commentary (152-158). He excels by unearthing some helpful Baptist history and practice (158-165). "The abuse of discipline is reprehensible and destructive, but not more than the abandonment of discipline" (158). "Discipline is no more the focal point of the church than medicine is the focal point of life" (166).


Biblical Concern for Discipleship and Growth: This chapter feels like inception. It makes an apology for a biblical theology of growth (174-182) and then puts tires on it for every one of the nine marks. The author is not anti-growth. Just biblical growth, which is often slow and unseen.


Biblical Church Leadership: Dever's congregationalist convictions shouldn't deter readers of differing persuasions regarding church polity. He shines by clarifying authority: "its congregational context; its biblical qualifications; its charismatic nature; its Christlikeness; and its relationship to God's nature and character" (201-25). His leadership diagram is helpful and seems to be a unique take on church leadership (219).


Biblical Understanding and Practice of Prayer: This chapter alone is worth the book's price, and it pays to revisit it periodically. Unlike many books on prayer, this chapter focuses on corporate prayer. Dever pushes against unthoughtful practices and sick church cultures. "To abandon prayer is to embrace atheism" (247). "...much of the way God uses prayer will be in undramatic ways….A church that is known for its prayer life is not indulging in self-promotion but in God-promotion…. As our prayer advertises our dependence upon God and the fact that God is dependable, our prayers become praise. And such prayer should and will mark a healthy church" (248-49). I think our own church has come a long way in the last five years, but I think we still have a long way to go to have a culture of dependent, bold corporate prayer.


Biblical Understanding and Practice of Missions: He starts the chapter by briefly tracing missions through the Bible and then spends the rest of the chapter on "what churches should do in missions" (256). A biblical understanding and practice of missions flow from a solid understanding and practice (!) of evangelism. "Some churches, with the best of intentions, have so many programs that they make godliness seem like coming to the church building for a program rather than getting to know and love their neighbors or coworkers or family members" (261). "Pastoral training is central to missions" (265).
Don't ignore the appendix that tops off the book with: "tips for leading the church in a healthy direction (273)," a provocatively-titled primer for how and when to introduce your church to the practice of discipline (277), and the "original" 9 Marks letter (283). I'd recommend sprinkling those throughout your reading of the main part.
I highly recommend that you take the time to read this book. By the time you finish it, you will understand the "marks" better and be equipped with sound thinking for a long time to come. This, at least, has been evident by all the riffs and deep-dives off this book in the 9Marks corpus. The implications are enormous, if not eternal.
Will Pareja, Pastor/Elder