Since the Bible is God's word, there's a joyful reverence that ought to accompany us as we open his book. We are here suggesting one way to begin your time looking at God's word. This can be done in solitude when reading by yourself, or with groups that you're reading with.
What the Bible says about the Bible
Psalm 119 is the longest song in the whole book of Psalms and the longest chapter in all the Bible. Almost all 176 verses have an explicit reference to God's written word, meaning that this thing is unequivocally talking about God's written revelation.
It's an acrostic Psalm, meaning that each line within the stanzas begins with the same letter of the alphabet. In this case, it is the Hebrew alphabet, not the English alphabet, which is why it doesn't appear to follow alphabetically in your Bible. The little words in your Bible, such as Aleph, Beth, Gimel, etc. are the consecutive transliterations of the Hebrew alphabet.
What we are suggesting is to take a small chunk of this Psalm and to pray it as your own before reading your daily Scripture reading route or plan.
01. Save It
Below you will find a photo of a daily selection of the Psalm. Here's what you can do.
Press and hold the image to save it to your phone.
Once the image is saved to your photos, mark it as one of your 'favorites' so that you can easily access it.
When it comes time to read, scroll to this photo, and then read & pray the content of the psalm. Each day of the month has a short selection already marked out.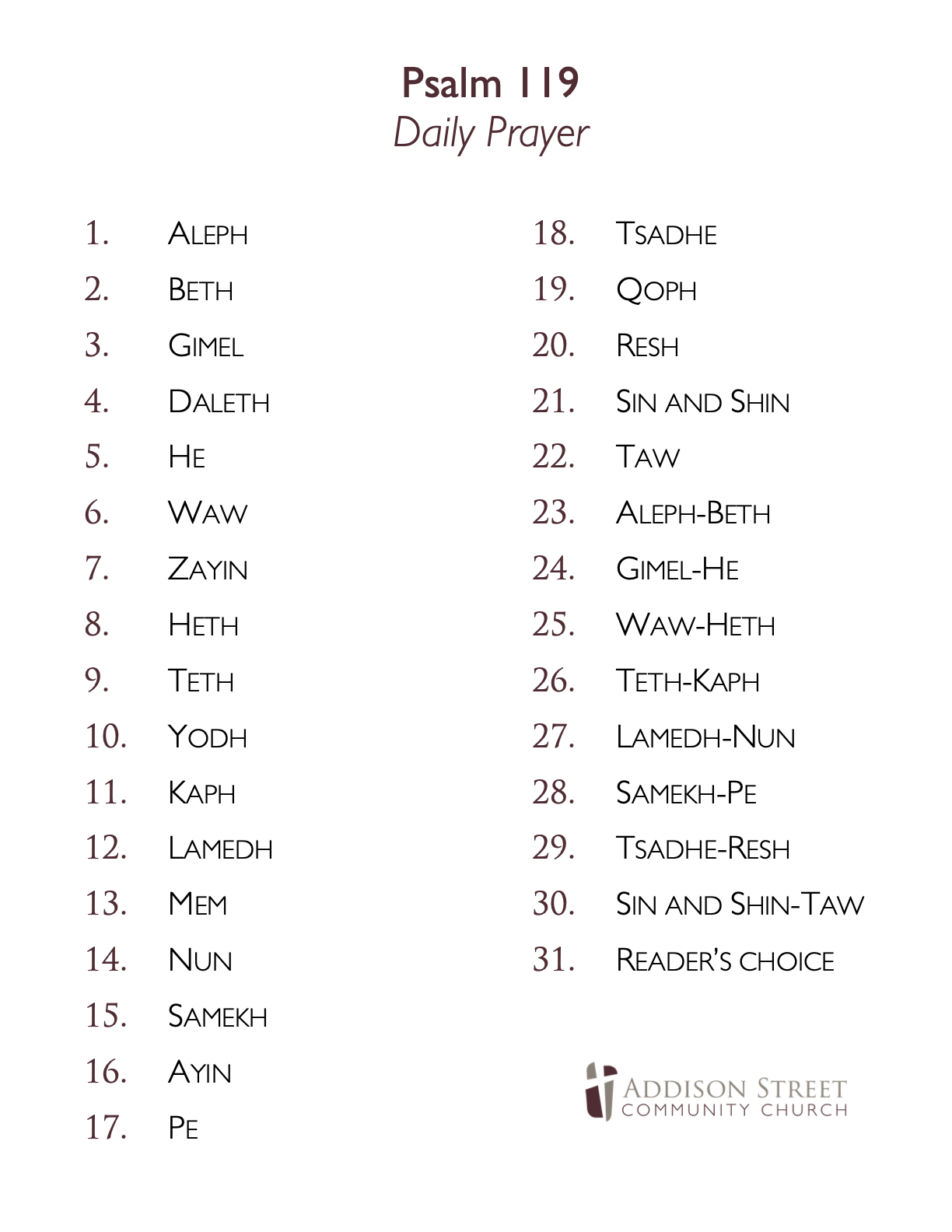 02. Print it
Or, if you'd like to have a physical copy, you can print it.
Print it
Stick it inside the front cover of your Bible
Take it out before you get to reading, and read & pray through the short section as a way to warm your heart for God's word.
Resolve
Psalm 119 is full of personal and corporate resolutions to keep and love and obey God's written word. What resolutions will you make as the psalmist's words become your own through prayer? Practice this daily as you pick up the Bible to read and meditate on God's abundant goodness to the children of mankind.