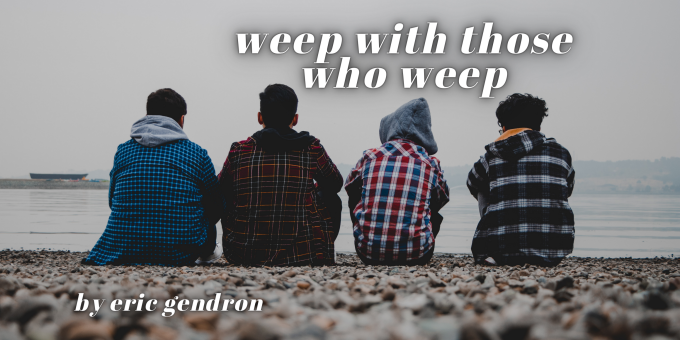 [5 minute read]
Picture this: A friend of yours is suffering. Maybe they just lost a loved one, perhaps they are feeling anxious, or maybe they are going through a spiritually dry season. They come to you and tell you about their suffering. What do you say? Do you open the book of Psalms and talk about trusting God amid trials? Do you recommend a Christian counselor for them to go and see? Or do you sit with them, mourn with them, and try to feel the weight of what they feel?
All three options have their place in ministry, but I want to focus on one. In Romans 12:15, Paul says, "Rejoice with those who rejoice, weep with those who weep." Many of us read that and don't have a second thought about it, but what does it mean to not only rejoice with those who rejoice, but also weep with those who weep? The former is arguably the easier of the two because who doesn't like to celebrate? The more complicated and uncomfortable part is to weep with those who weep.
While we might not completely understand the situations that our loved ones might be going through, we know that they are hurting, and if we're like every other human to have lived, we have also experienced hurt and suffering. Having experienced pain ourselves, we have some understanding of what our loved ones might be going through. This mutual understanding draws us to care for our loved ones. To want them to feel better, to be with them in solidarity. And I think that's what Paul was trying to communicate: Solidarity can bring comfort to your loved ones.
A way to live in solidarity with someone is to empathize with them. To empathize with someone is to do as Paul said, to try and feel what they feel. Feeling sad or mournful is usually not something most would consider desirable, so why should we empathize with our loved ones? As Christians, we have been given the most remarkable example of empathy: God becoming a man. Christ coming in the flesh. The most essential part of Christ's life is arguably His death, but that would have never happened had He not become incarnate. He lived on earth for more than thirty years, feeling the same pain as those around Him. If Christ Himself lived in solidarity with us, are we to not live in solidarity with one another?
Another excellent example of the solidarity of Christ is the well-known shortest verse in the Bible: Jesus wept (John 11:35). Many people read this verse and move on, but reading it in context gives it more meaning. Shortly before this, it says in verse 33, "When Jesus therefore saw her weeping, and the Jews who came with her also weeping, He was deeply moved in spirit and was troubled." Jesus was in solidarity with the mourning family of Lazurus, despite knowing that Lazarus would shortly be walking out of the tomb. He felt the weight of what they felt and wept with them.
One of the difficult parts of being in solidarity with your loved ones is knowing when to stop weeping. I'm not saying that we harden our hearts to them and grow apathetic. I'm merely pointing out that the Psalmist said joy comes in the morning (Psalm 30:5). Joy can't come in the morning if the night is eternal. Consider the story of Lazarus again. Jesus wept, and if He had never stopped weeping, then Lazarus arguably would have never been raised.
Living in solidarity with one another only further displays our oneness in Christ. To bear one another's burdens (Galatians 6:2). As you go about your week, I want to encourage you to do as the Apostle Paul commanded us to do, to "Be kind to one another, tenderhearted, forgiving one another, as God in Christ forgave you" (Ephesians 4:32). Lift one another up. Turn each other's eyes to Christ. Live in solidarity.