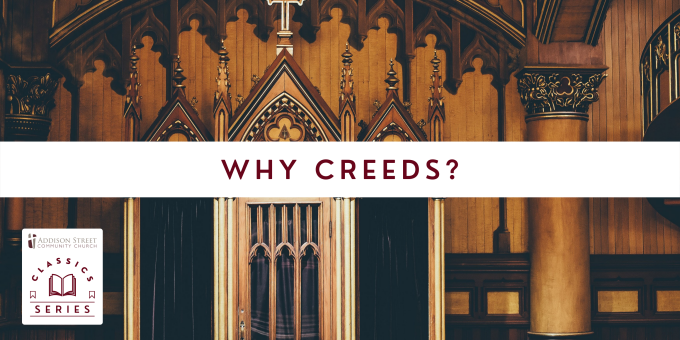 [3.5 MIN READ]
The following blog is the newest installment in our Classics Series, where we revisit posts from days gone by. This blog was originally posted in July of 2013.
---
Last week in our worship service, we said the Apostle's Creed together as a congregation. The Apostle's Creed, as its title indicates, is a 'creed'—or a concise statement of core Christian commitments. Perhaps, like me, you have wondered why churches take time to recite creeds in their services. Isn't a potential drawback of saying creeds regularly that it could become a rote, meaningless exercise? Given this real danger, why have we decided to include this practice in our worship services? This is a good question. If you have wondered that at all, here are at least several reasons why we think it is a good idea to affirm the creeds together at Addison Street.
First of all, we believe in saying creeds because of the importance of our Christian beliefs. On Sundays, we don't gather as a social club or some type of special interest group. Instead, we gather as a group of people that have been saved by Jesus Christ and who share a set of convictions about God and his world. Most importantly, we share a belief in the gospel of Jesus Christ—that he came into the world to save sinners through his death and resurrection. This belief and many other significant Christian commitments are recorded in the church's historic creeds. By saying them together, we are corporately affirming our commitment to them.
A second related reason that we say the creeds together as a church is that they remind us that we are a part of the universal church. As God's people, the church is obviously much more significant than Addison Street Community Church. Affirming the creeds together is one way of expressing our unity with Christians throughout the world and throughout all of history. One fantastic thing about the historic creeds such as Apostle's Creed and Nicene Creed is that the truths contained in them are affirmed by all Christians everywhere. Accordingly, to put it starkly, to deny any significant part of the creeds is ultimately to deny "the faith once handed down to the saints" (Jude 1:3) since they affirm essential Christian commitments.
Perhaps one more reason we say the creeds is harder to see: it changes us—or at least it can if we will let it. See, what we believe shapes how we act. We repeatedly see this vital truth in Scripture (see Romans 12:1-2, for example). So, by constantly affirming our core convictions together as a congregation, we remind ourselves of what we really believe. Ultimately, what we really believe can and will shape us and change us.